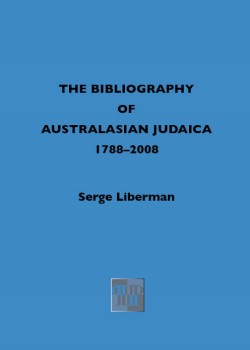 3rd Edition
Hybrid Publishers
by Serge Liberman
Hard Cover
864 pages, size 175 mm x 245 mm

"...a treasure chest [which] will speed you on an inexorable journey to uncover jewels ... a landmark work of scholarship, patience and endless enthusiasm." Rabbi John S. Levi

This bibliography includes all traceable self-contained books, monographs, pamphlets and chapters from books which in some way pertain to Jews in Australia and New Zealand between 1788 and 2008.
Since the first edition of the bibliography was published over twenty years ago, the author has been working tirelessly to bring it up to date. It is a major work of scholarship, and will provide useful/critical information to readers and researchers wanting to know anything about publications with any connection to Judaism, Jewish people, Jewish themes, history, culture, communal life, education, the Jewish press, architecture and the arts. There is no other single source of the information available in this resource.
•
About the author: Born in Russia in 1942, Serge Liberman came to Australia in 1951, where he now works as a medical practitioner. As author of several short-story collections including On Firmer Shores, A Universe of Clowns, The Life That I Have Led, The Battered and the Redeemed and Where I Stand, he has three times received the Alan Marshall Award and has also been a recipient of the NSW Premier's Literary Award. In addition, he is compiler of two previous editions of A Bibliography of Australian Judaica. He has been Editor and Literary Editor of several respected journals and has contributed to many other publications.


$55.00 AUD
Price Includes Australian GST
[Currency Converter]